Products List
Contact Us

Product

You are here :
Home
» Product
XSASY600-1000 Series High-speed Computer Gravure Printing Machine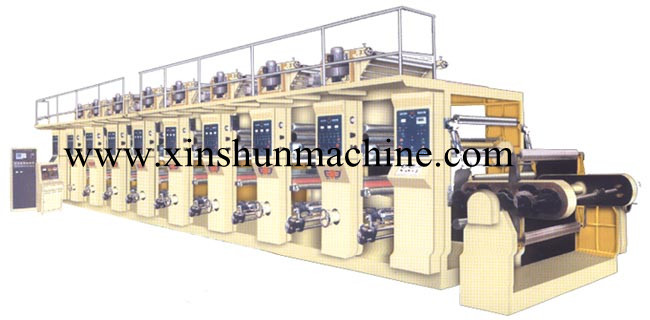 Name:
XSASY600-1000 Series High-speed Computer Gravure Printing Machine
Online services:

Product description
This machine is suitable for printing roll plastic, film, OPP,nonwoven cloth, PVC,thin leather, paper,aluminum foil, cloth and various soft packages with excellent Performance and it is a kind of ideal printing equipment for wine box, shoe bag and vest bag.
Main Technical Variables:
Performance and Features:
1、Every control module of the automatic color register system is equipped with microprocessor and can correct the deviation of color register quickly and accurately.
2、Main motor equipped with frequency converter for speed regulation
3、Unwinding tension automatic tension controller and magnetic powder brake.
4、Rewinding adopts torque motor,double-station automatic turret.
5、Closed oven and independent heating hot air blowing system, automatic constant temperature system.
6、Pneumatic impressing system and pneumatic doctor blade system
7、Diaphragm-type pneumatic ink auto circulating system
8、Inflatable air shaft for unwinding/rewinding material loading
9、Printing linear speed and meter counting display
10、Shaft less printing cylinder loading device,printing cylinder is fixed by shaft-less air chuck.
Other related products
More Info
If you have any enquiry about quotation or cooperation, please feel free to email us at or use
the following enquiry form. Our sales representative will contact you within 24 hours. Thank you for your interest in our products.
Contact person:

*

Phone:

*

Fax:
CompanyName:
Address:
Email:

*

Subject:

*

Message:

*