Products List
Contact Us

Product

You are here :
Home
» Product
XS-400*2 Automatic High Speed Double Line T-shirt Bag Making Machine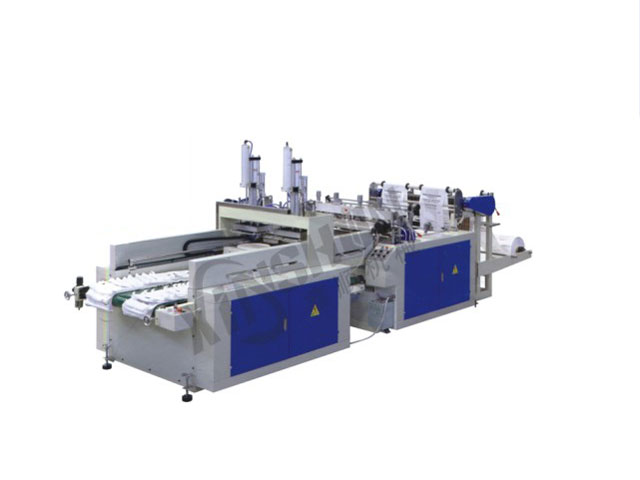 Name:
XS-400*2 Automatic High Speed Double Line T-shirt Bag Making Machine
Online services:

Product description
Use
It is suitable for hot sealing and hot cutting both printed and unprinted film,which make fo HDPE,LDPE
Feature
1.Especially designed for hot sealing and hot cutting of T-shirt bag,It can be punched automaticarly in two production line which will increase the production and save the manpower
2.Double track designs,double prodcution lines,double photo scanners,double servo motors
3.photocell for accurate registration of film printing points if the photocell can't catch printing point the machine will stop automatically
4.inverter control speed,easy operation,reduce electricity consumption.
5.automatic stopping when run out of film
6.when the output bags reach the setting number,the punch machine will clamp the bags,without siop
7.new diesgned sealing blade,when blade need be cleared up,it can be turned 100 degree and fixed,it will be safe and easy to take care
8.strong sealing and output bags being tear up neatly
9.punching machine use pneumatic and hydraulic pressurized cylinder,so the noise is low and the gas consumption is little.
Main technical parameters
| | |
| --- | --- |
| Model of machine | XS-400×2 |
| Max.Bag Width | 330mm×2 |
| Producing length | 300-650mm |
| Producing Speed | 100-170circle/min |
| Thickness of Film | 0.01-0.035 |
| Main motor | 2.2kw |
| Main power | 10kw |
| Air Pressure | 7kg/cm2;700Ni/min |
| Max.Dia. For unwinding roller | 800mm |
| Machine Weight | 2300kg |
| Overall Dimensions(L×W×H) | 6600×1550×1900 |
| Packing Dimensions(L×W×H) | 2150×1600×1550; 2300×1510×2100; 1940×1480×1430 |
Other related products
More Info
If you have any enquiry about quotation or cooperation, please feel free to email us at or use
the following enquiry form. Our sales representative will contact you within 24 hours. Thank you for your interest in our products.
Contact person:

*

Phone:

*

Fax:
CompanyName:
Address:
Email:

*

Subject:

*

Message:

*