Products List
Contact Us

Product

You are here :
Home
» Product
XS-350 Cellophane Film Box Packing Machine (Bringing anti-forging pull line)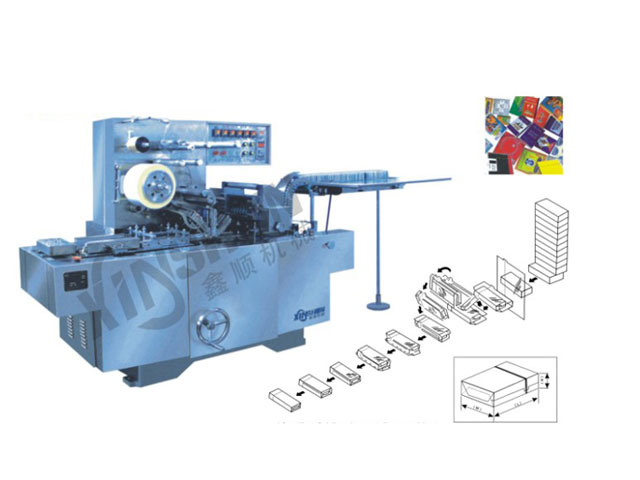 Name:
XS-350 Cellophane Film Box Packing Machine (Bringing anti-forging pull line)
Online services:

Product description
Product Description
Usage: This machine has widely application in the hard case automatically packaging of all kinds of products in medicine, healthcare products, foods, cosmetic, stationery, audio& video products, such as the wrap and packing of box medicine, playing cards, scratchpads, cassettes, etc.
Features: This machine is designed with much elaboration on the base of absorbing the outstanding features of overseas facilities. Using imported digital display frequency converter and electronic components. It has the features of stable and reliable operation, film, and sealing, even surface and beautiful appearance. It can do automatically packaging, heat sealing, counting, and automatically sticking fake-proof gold drawable label to single or multiple cases (such as the inside packaging of playing cards). The machine has step-less packaging speed adjusting, no film feeding protect if case-lack, and color bars calibration (according to the requirement of the customer) features. Only need to change few parts to package variety of specifications of products.
Note: The pull line of the transparent packing film can be printed various color of enterprises sign or name, can bring anti-forging laser and phosphorescence (show fluorescence under shining methods, is fairly suitable for the package of top class famous products. If applying, easy to pull seal and break bale. )
Technical data:
Specifications:
1) Productivity: 25 - 100sacks/min
2) Packing sizes: (a) L: 40 - 160mm (b) W: 20 - 100mm (c) H: 10 - 40mm
3) Power: 380V, 50Hz
4) Electric machine power: 0.75kW
5) Electro-thermal power: 3.7kw
Materails:OPP film,BOPP film,hot-adhesion glass paper,anti-forging gold-drawing-line,cellophane
Machine demensions(L x W x H):2700 x 800 x 1600mm
Weight:880kg
Other related products
More Info
If you have any enquiry about quotation or cooperation, please feel free to email us at or use
the following enquiry form. Our sales representative will contact you within 24 hours. Thank you for your interest in our products.
Contact person:

*

Phone:

*

Fax:
CompanyName:
Address:
Email:

*

Subject:

*

Message:

*