Products List
Contact Us

Product

You are here :
Home
» Product
PP Film Blowing Machine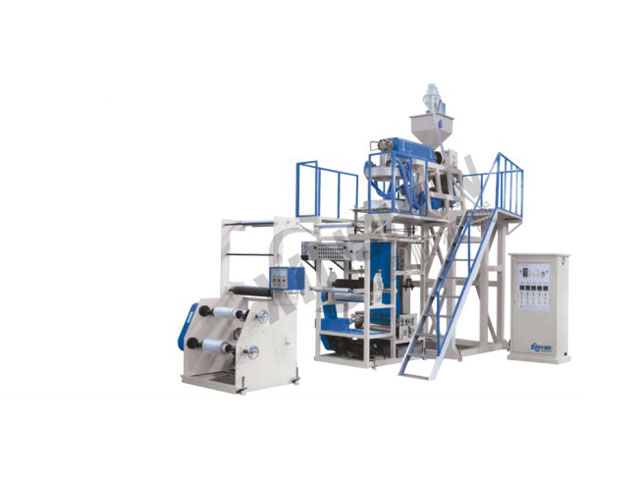 Name:
PP Film Blowing Machine
Online services:

Product description
PP Film Blowing Machine
Characteristics:
It is used for blowing polypropylene (PP) and also for blowing high/low density polyethylene (HDPE, LDPE) tube which is widely used for packing food, garments, textile, daily necessities and industrial products etc. The cylinder and the screw of extruder are made of high quality alloy steel with optimum hardness and strong corrosion resistance after nitrogenization treatment. The extruder can be lifted up to 3 meters according to the technological requirements. Mode of film blowing adopts bottom blowing. The coiling device adopts torque motor to keep proper tension and make winding even and roll-changing convenient.
Main Technical Parameters:
Model

SJ-55-FM600

SJ-60-FM700

SJ-70-FM800

Diameter of Screw

55mm

60mm

70mm

L/D ratio of screw

L/D28:1

L/D28:1

L/D28:1

Rotational speed of screw

10-100r/min

10-100r/min

10-100r/min

Power of main motor

11kw

15kw

18.5kw

Rotational model of machine head

Unilateral continuous rotation

Maximum output

32kg/h

38kg/h

46kg/h

Max. lay-out width of film

600mm

700mm

800mm

Single-sided thickness of film

0.01-0.10mm

0.01-0.10mm

0.01-0.10mm

Gross power

22kw

28kw

36kw

Weight of machine

2300kg

2900kg

3500kg

Overall dimensions(L×W×H)

4.8×2×4 M

4.8×2×4 M

5×22.0×4.2 M
Other related products
More Info
If you have any enquiry about quotation or cooperation, please feel free to email us at or use
the following enquiry form. Our sales representative will contact you within 24 hours. Thank you for your interest in our products.
Contact person:

*

Phone:

*

Fax:
CompanyName:
Address:
Email:

*

Subject:

*

Message:

*