Products List
Contact Us

Product

You are here :
Home
» Product
Adjustable roll square bottom paper bag machine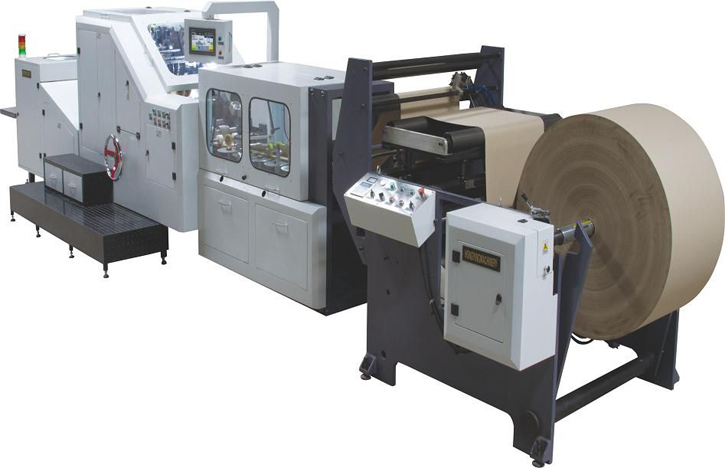 Name:
Adjustable roll square bottom paper bag machine
Online services:

Product description
Product Price
Application note
Structure features
1. Introduce PLC and In-touch screen human-machine interface centralized control system, with reliable performance, easy for operation and maintenance. English/Chinese language can be changed easily.

2. Shaft less hydraulic material loading system with chuck, hydraulic up/down system

3. Automatic constant tension control for unwinding, EPC web guider system, motor for material feeding with inverter
Wheel type gusset unit with motor driving.

4. Servo motors for main feeding and bag length control
Closed type automatic glue application and forming system
Paper impress, bottom folding, gluing and bag formation can be completed automatically.

5. Side lay working table, easy operation.

Technical parameter:

Width of Paper 320-930mm

Length of Bag 155-505mm

Width of Paper Bag 80-290mm

Width of Bag Bottom 60-160mm

Paper weight 60-180G/M2

Max. Diameter of Paper Roll 1200mm

Internal Diameter of Roll Core 76mm

Max. Speed 200PCS/min

Total Power 18.5Kw

Weight of Machine About 9000 kg

Overall Dimension L9000mm× W3300mm× H1900mm
Other related products
More Info
If you have any enquiry about quotation or cooperation, please feel free to email us at or use
the following enquiry form. Our sales representative will contact you within 24 hours. Thank you for your interest in our products.
Contact person:

*

Phone:

*

Fax:
CompanyName:
Address:
Email:

*

Subject:

*

Message:

*